Panorama of Anqing city
Located in the southwest of Anhui province at the confluence of Anhui, Hubei and Jiangxi provinces, Anqing city has jurisdiction over one city, seven counties and three districts. The city has a total area of 15,300 square km and a population of 6.1 million.
Major tourist attractions in Anqing:


 Huating Lake

 Tianzhu Mountain

 Dalong Mountain


 Fushan Mountain


 Yingjiang Temple


 Memorial Park of Chen Duxiu
Anqing boasts a long history and rich tourism resources. Blessed with green mountains and crystal-clear water, it teems with famous tourist attractions, such as the Tianzhu, Sikong, Xiaogushan, Fushan, Dalong and Miaodao mountains as well as Huating Lake. Its well-known historical sites include the Baiyazhai Stockaded Village and Confucian Temple of Tongcheng City.
Anqing has given birth to a great number of celebrities since ancient times, such as Chen Duxiu (1879—1942), a modern scholar and revolutionary, Zhao Puchu (1907—2000), former President of the Buddhist Association of China, and Deng Jiaxian (1924—1986), a famous scientist. In addition, it is known as the Home of Opera and Place of Culture. The profound Buddhist culture, theatrical culture and Tongcheng School shine brightly.
Tianzhu Mountain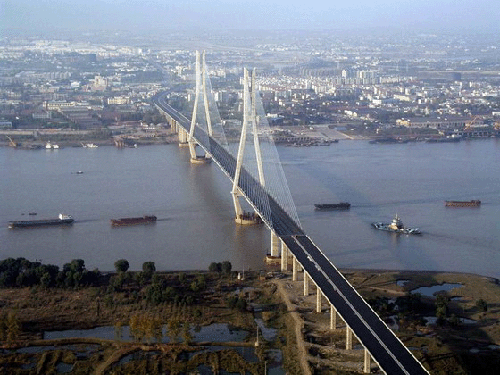 Anqing Yangtze River Bridge
Xiaogushan, or literally translated as Little Solitude Mountain
Source: Anhui Travel Guide